ESSA Conference
Every Student Succeeds Act (ESSA) Conference
February 11-13, 2019
Sheraton Grand Hotel, Chicago, IL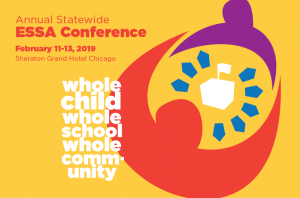 Register by mail
More information and mail-in registration form in this brochure.
Make hotel reservations
Session Info Sneak Peak
A draft preview version of the details for all conference sessions on
Monday, Tuesday, and Wednesday.
For more than two decades, the Annual Statewide ESSA Conference has brought together educators from across Illinois to share information about their creative, effective and replicable classroom and school practices.  It also highlights national and state education policies and programs.  The Center: Resources for Teaching and Learning collaborates with the Illinois State Board of Education and other education organizations in the planning and presentation of the program.
The conference theme is "Whole Child, Whole School, Whole Community."  This reflects ESSA's commitment to "leverage funding to ensure a focus on equity and excellence for all students." Some sessions at the conference will be presented by ISBE professionals on the details of the ESSA State Plan.
The conference addresses all educational levels, from early childhood through secondary, with emphasis on personal teacher/student interactions, school policies, and educational strategies that enhance achievement and growth across the curriculum.
We look forward to seeing you in February.
James A. Zabel
ESSA Conference Coordinator
The Center: Resources for Teaching and Learning
jzabel@cntrmail.org
Annie Brooks
Director of Title Grants
Illinois State Board of Education